Melp questionnaire is specialized in web-based medical questionnaire,
so it has a full range of specialized functions required for clinics.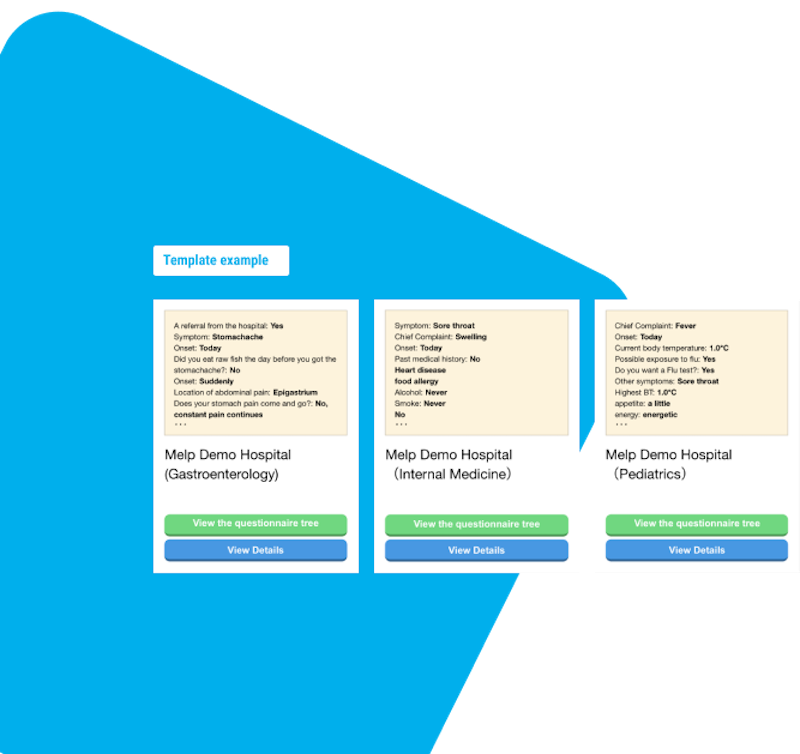 Easy to create web-based medical questionnaire
Abundant templates for web medical questionnaires
Melp questionnaire provides a number of questionnaire templates for each medical department, symptom, and examination.
There is no need to create a web-based medical questionnaire from scratch; you can choose the template you want to use. In addition, symptom-specific medical questionnaires are created by branching out from in-depth medical questionnaires that can identify differential diseases.
Customizing the medical quesionnaire
Customizability to fit the clinic's operations
Melp questionnaire is highly customizable so that it can be used in accordance with the operations of each clinic.
Customizing the medical questionnaire
You can freely customize the medical questionnaire based on the template of the web medical questionnaire. Depending on the results of the questionnaire, you can also include messages such as test information or treatment referrals.
Customize the answer display
You can choose how you want the results of the patient's responses to be displayed in the medical record from "Bullets", "Text", and "Responses Only".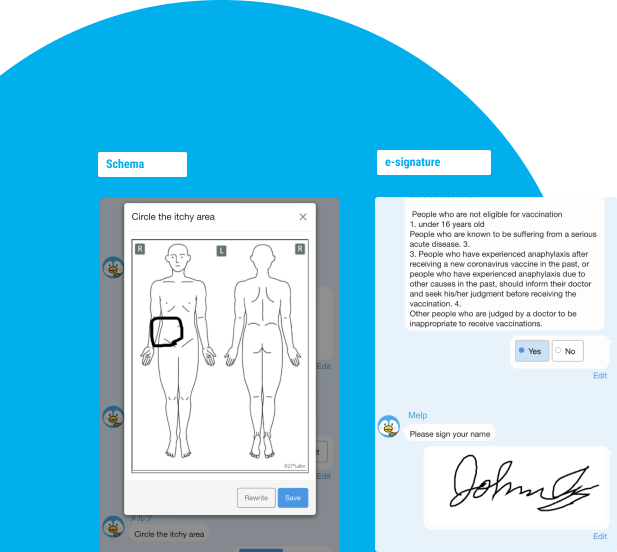 Functions born from clinic requests
Meeting the detailed needs of clinics
The Melp questionnaire allows patients to not only select and free-type answers, but also to fill in a schema, sign electronically, and send photos and videos.
Schema
In addition to the usual question and answer type, you will be able to fill in and answer questions about the location of your pain and numbness on the schema.
Vaccine questionnaire function (e-signature function)
Vaccine questionnaires that require patient and physician signatures can also be digitized. "The digital data of the medical questionnaire will be converted into the original form in compliance with the "Guidelines for the Safe Management of Medical Information Systems".
---
---
Other features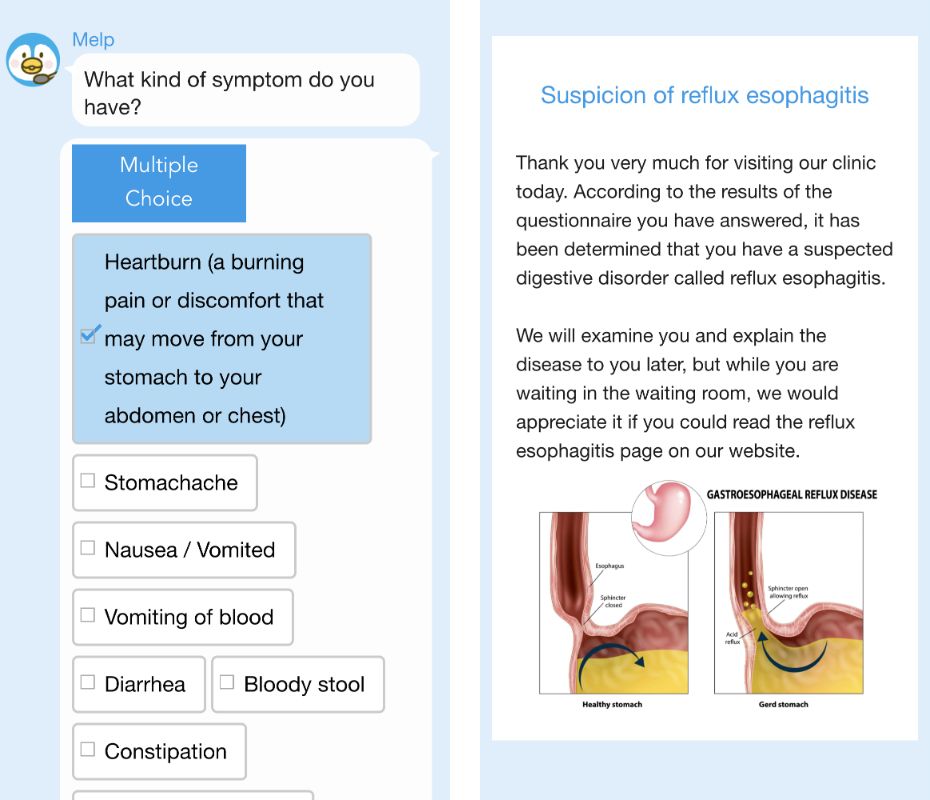 Notification distribution function
The system automatically displays the clinic's information (procedures and tests) to patients in advance according to their complaints and answers to medical questions. This helps to deepen the patient's understanding and shorten the consultation time.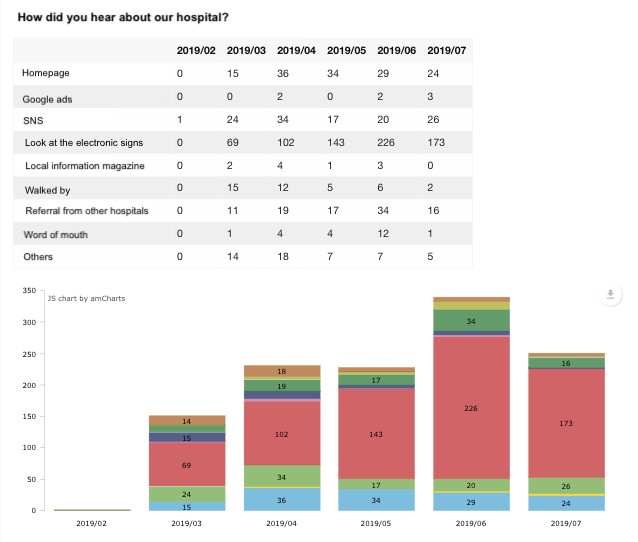 Aggregation function
The system automatically calculates monthly totals for any medical questionnaire created by the clinic. You can see at a glance the breakdown of the route of visits and which symptoms are most common.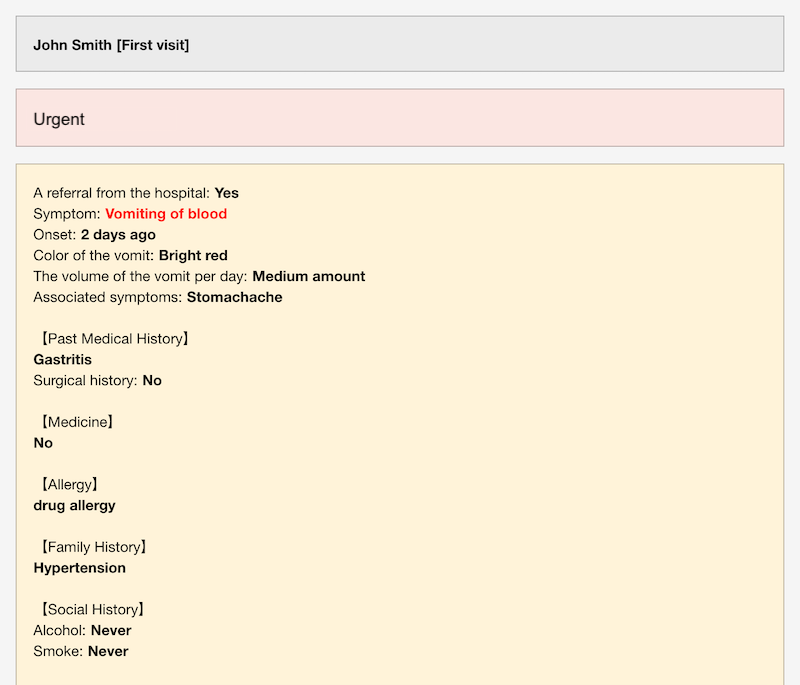 Triage
The urgency level is displayed according to the patient's response. Patients with high urgency can be called to the examination room on a priority basis.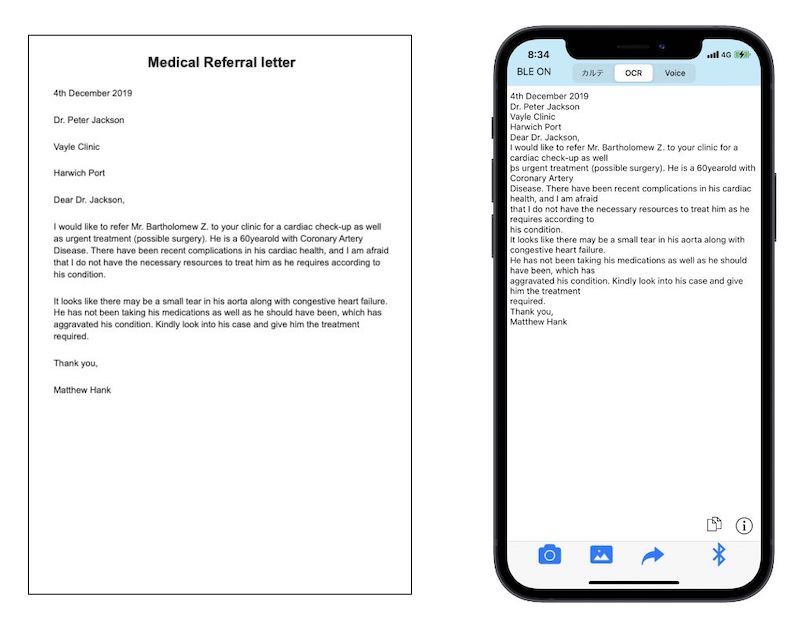 OCR function
Paper documents such as referral letters and medication handbooks can be scanned with OCR and only the text information can be pasted into the electronic medical record with one click.
---
Getting started is fast and easy
Get started with a FREE 30 day trial of our paid plan to test out all the features.
Fill out the form below to start your Melp!